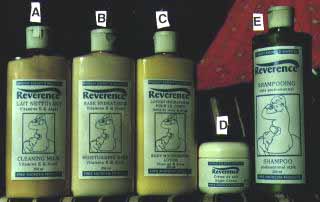 Personal care Products
REVERENCE
GOAL
The goal is evidently to me has promoter to make money like everyone else. But the money that I want to make, I want to make it wisely. In an others words, by respecting my customers and it is the reason why I have chose the name "Reverence" for my products.

In fact, utilization of Top Models tall and rachitic in the publicity with the purpose to sell personal care products to women is an insult make towards them. It is completely ridiculous to make plump women feel that they have not a "correct" or inadequate body when they try to sell to them something.

It is therefore, by the fact that we cannot change our body has we can change our clothes, it is ridiculous to consider the body of plump woman like an unesthetics or ugly thing, that is not presentable in magazines or in television. « Yes a person with ugly clothes is not presentable, but this cannot be the case for a plump woman. »

By seeing, by a thing understood to the women, that they are not beautiful or not fit to be seen in television, it is a way to take them has if they should be imbeciles. Thus, it is unacceptable to try to sell something by calling women has foolish in the same time.

Thus, by buying my products of personal care the woman will do an action of affirmation. She will express her will to be considered and respected in an intimate aspect of her person; her body. She will encourage only enterprises that have a good opinion, in the way that they consider her roundness being responsible for her physical beauty.

Besides, the esthetics norm about thinness in the world of advertising play a roll in the global strategy of the diet industry to make women feel guilty in the way to put pressure to force them to lose weight.

Conclusion:
« Logically, a seller who have success, it is a seller who have consideration about his customers. »

To know more about this philosophy
PRODUCTS DESCRIPTION
All this products are exclusives and first quality ones. And the most important thing, the manufacturer have a good opinion about plumb women, in fact he hire some too (Free Anorexia Product).

A- Cleaner Milk 250 ml/8 oz
With sweet water, vitamin E plus aloes. Clean your iperdermis deeply and make your skin truly clean.

B- Moisturizing Base 250 ml/8 oz
With sweet water, vitamin E plus aloes. Prevent your skin to be dehydrated, delay the apparition of ripples. Everyday usage is recommended.

C- Body Moisturizing Lotion 250 ml/8 oz
With sweet water, mink oil plus aloes. Procure freshness feeling, soften and make supple epidermis.

D- Night Cream 60 g/2 oz
With proteoderminia and liposome, very nutritious elements for the skin, they are penetrating deeply. Moisturizing cream regenerating for your epidermis, it is not greasy and not make stain. During your sleep, it will give back again to your skin, an younger aspect.

E- Shampoo satiny 500 ml/16 oz
Professional style. Shampoo for all type of hair. Clean with sweetness, give back again consistence and luster to your hair with conditioners and PH equilibrate.
Wholesale
This products of personal care are sell only by complete box to the business like: women's clothing, drug store, food store, hairstyle shop, etc.

You can order just 1 or 2 products or all (1 box or +).

The margin of profit is 20% on the suggested price, the range of price is mean high (alberto V05).

The price of the products can possibly change in function of the cost of shipping that you must to pay.
TO MAKE AN ORDER
You must write to me by email to obtain information about de price of the products and for the shipping in function of the quantity.

After you make a decision, you send by normal mail your order with a check at my name José Breton to this address:

José Breton
Les Éditions de la Femme

After, I will ship your order with a invoice.
Wink of an eye
This is an article published during the summer 1997 in the Weekend part of the "Journal de Montréal"

DEBATE ABOUT LANKY MANNEQUINS

BIENNE, Switzerland (AFP) - Nicolas Hayek, the president of the group clock-maker swiss SMH who own Omaga mark, have announced yesterday that Omega will continue to make advertising in the Vogue feminine magazine, even if his group was oppose to the publication of photos of « lanky » mannequins.

He have confirmed that Giles Rees, one of the responsible of the Omega mark in Great-Britain, had sent a letter to Vogue to express his revolt against the publication of photos of « lanky » mannequin, estimating that this proceeding was irresponsible in this period ot time where so much young women are suffering from anorexia. He was finishing his letter by announcing that his society should no more put, in consequence, pages of publicity in the magazine.

M. Rees, « young and boiling » collaborator, has been to far have said to l'AFP M. Hayek. At the demand from this latest, the britain manager come thus write a second letter to Vogue in order to inform that he came back on his decision to boycott and that Omega will continue to put publicity in there pages.

M. Hayek have insisted on the fact that he supported the moral principle of his employee and that he was also oppose to the race to the thinness and indeed the leanness, that sermonize some magazines and that is, according to him, « an fatal exaggeration of our society ». But the SMH respect the right to others to think otherwise, have explained to.