États du Micronesia dans les îles du Pacifique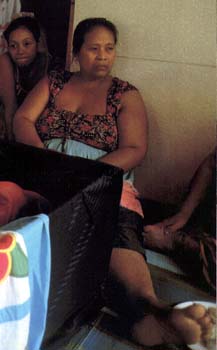 Federated states of Micronesia - Pohnpei - Vigile des femmes autour d'un mort (rite funéraire)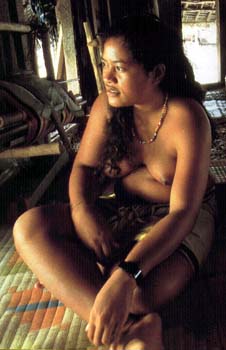 Federated states of Micronesia - Yap - Isolement de la femme lors de ses menstruation

Ruled by custom, women of Magmog, an island in Ulithi Atoll, while away the day in the ipul, or women's house, where they must remain during their menstrual period. Most women enjoy this break from their normal labors and spend the time happily talking or weaving on looms, at left and upper right.

The onset of puberty once called forth a farreaching set of taboos throughout the islands of Yap. Today only the most remote still require a young girl, at the first sign of her first period, to head immediately for the women's house. As she approaches, the women within begin to chant loud for the village to hear. "The menstruating one, ho-o-o!" This triggers hours of erotic dances by both the women in the house and the men of the village. Living in the women's house, the girl may not cook food for the men or eat with others for eight days; after another six days she may leave, but then only to live apart in her own hut.

Photo tirée de la revue National Géographic, voctober 1986 en page 460 et tirée du reportage "In the Far Pacific- At the Birth of Nations.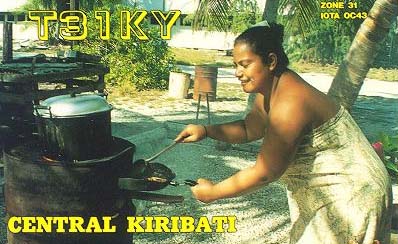 Une carte pour situer les États Fédérés du Micronesia
Pour aller voir des photos de cette région
---
Retour au musée de la rondeurs