Caroline du nord - Outer Banks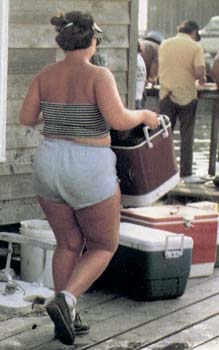 (Extrait) Une journée à la pêche en famille dans l'île Hatteras dans l'océan atlantique.
Photo tirée de la revue National Géographic, Vol. 172, no.4 August 1987 en page 487 - North Carolina's outer banks - Awash in change
Texte venant avec la photo
A day on the sea winds down at the Albatross Fleet charter office on Hatteras Island. As a customer tends a catch of dolphin fish, Capt. Bill Foster sits on stoop for a chat with Owen Hawkins, who once battled a 500-pound blue marlin to the rail of an Albatross boat, only to set it free. In 1937 Foster and his brother Email pioneered deeep-sea charters off Cape Hatterras, where a "mixing bowl" of nothern and tropical currents teems with migrating species from both regions.
Outer Banks
Outer Banks est une lisière d'île allant du Cape Henry au Cape Lookout. Et, il est la décharcge de trois rivière (Neuse River, Pamlico River et Albemarle. Ces îles sont situées dans une zone de forte agitation atmosphérique et océanique. Parce qu'elles sont au niveau ou le courant d'eau chaude responsable du temps tempéré en Europe, le Gulf Stream, est le plus proche de l'amérique du Nord. Un endroit où se rencontre courant d'eau froide du nord et courant d'eau chaude du Gulf stream. Cette région est balayée souvent par de fort vent, par des ouragans et de vagues.
Texte tiré de ce reportage
At the mercy of storm and sea, the barrier islands constantly feel the influence of complex interplay of moving water. In this depiction of winter conditions, cool water (bleu arrows) flows southward along the continental shelf. Waves generated by frequent northeasters strike the land at angles (white arrows) and craete the littoral drift that gradually carries sand southward. Warm waters of the norhward-flowing Gulf Stream (pink) hug the shelf slope. Clockwise-flowing eddies sometimes become isoleted as the stream meanders toward and away from the shelf.
In summer the stream's warmth helps fuel hurricanes from the southeast (inset A) that batter the Outer banks. With sea level rising over millennia, wind and wave action has pushed the the islands landward (inset B), a process certain to continue (inset C).
Carte des États-Unis pour situer La Caroline du Nord
Carte de Outer Banks
Carte de l'île Hatteras
Tropical Atlantic Satellite
Les vagues de Outer Banks
Photos de la côte de la Caroline du nord
---
Retour au musée de la rondeurs